Notification of Works
Coopers Stadium, Hindmarsh
April - May 2023
What we're doing
We're undertaking work to provide a back-up power supply to Coopers Stadium in preparation for the upcoming FIFA Women's World Cup July 2023. This includes the installation and connection of a new high voltage cable from Hindmarsh Place, along Manton Street, Milner Street finishing at 56 Orsmond Street in Hindmarsh.
How this affects you
Construction dates and times
Day works (7am to 5pm)
12 – 14 April trenching and exploration of underground conduit along the side of Coopers Stadium; Hindmarsh Place (closest Manton Street).
17 -21 April trenching and installation of underground conduit Orsmond Street, and 28 April pole footings for new stobie pole located at 56 Orsmond Street.
26 April to 5 May (excluding weekends) trenching and installation of underground conduit Milner Street. Milner Street will be closed between Manton and Orsmond Streets with signposted detours.
Night works (7pm to 6am)
To minimize disruption to traffic on Manton Street, the Department of Infrastructure and Transport has issued a permit for nightwork only.
27 April - 19 May (not including weekends) trenching and installation of underground conduit.
Dates may vary slightly for crew safety and flexibility, and dependent on weather conditions. Work will not be done when events are scheduled at the stadium. Dates include full reinstatement of roads, footpaths, and bike lanes.
Power outage
Some customers may experience a power outage on a Sunday (date to be confirmed) for the safety of our crews installing the new Stobie pole in Orsmond Street. If you will be affected, we will send a card, or send SMS/emails to subscribed customers in advance. If you don't already receive free SMS/email updates about your power, you can subscribe to receive notification.
Noise
There will be some noise disruption as a result of the heavy machinery being used for the excavations.
Traffic and Parking
Carparking restrictions will in place in Hindmarsh Place, Manton Street, Milner Street and Orsmond Street during our work.
Lane and speed restrictions will also apply to ensure safety for road users and our work crews. Our crews will speak to residents or business owners in advance if they will obstruct driveway access at any time.
Traffic controllers will be on site to assist road users, cyclists, and pedestrians.
We apologise for any inconvenience and thank you for your co-operation during our essential work. Our crews will minimise any disruption as much as possible.
Map of work area
Indicative map of the area in Hindmarsh where the works will take place.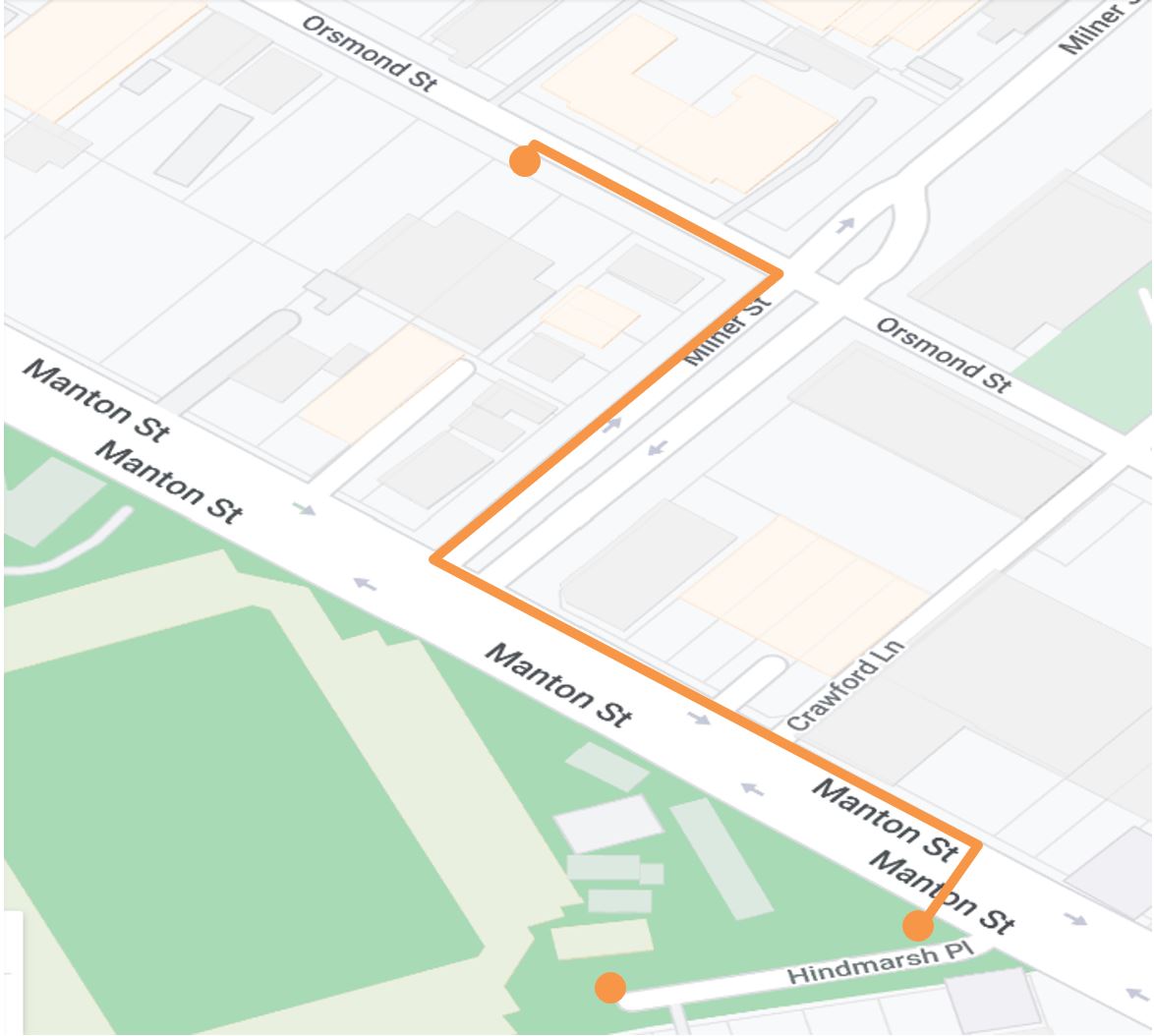 Further information
If you have any questions about our work, please contact:
Kate on 8404 4391 during business hours, or email us at CustomerCommunication@sapowernetworks.com.au
General Enquires: 13 12 61
Interpreter service: 13 14 50
Postal address: GPO Box 77, Adelaide SA 5001