Notification of works
Torrens to Darlington (T2D) Project network relocation
SA Power Networks is assisting the Department of Infrastructure and Transport (DIT) by relocating our network near South Road, supporting the final piece of their work on the North-South Corridor, the most significant infrastructure project ever undertaken in South Australia.
The Work
Commencing Thursday 19 July, we will be relocating our equipment near Pleasant Avenue and Maude Street Glandore, to be completed in August. We will be working intermittently throughout this period with working hours Monday to Friday between 7am and 5pm.
Parking controls will be put in place the day preceding any work and we thank you in advance for avoiding parking in these locations when signage is present.
Replacement of some private connections may be required, and customers will be notified of any outages closer to the scheduled date.
Some noise disturbances can be expected at times while these activities are completed, however, the work will be managed to minimise disruption as much as practically possible.
Dates are subject to change in the event of delays caused by weather or other issues.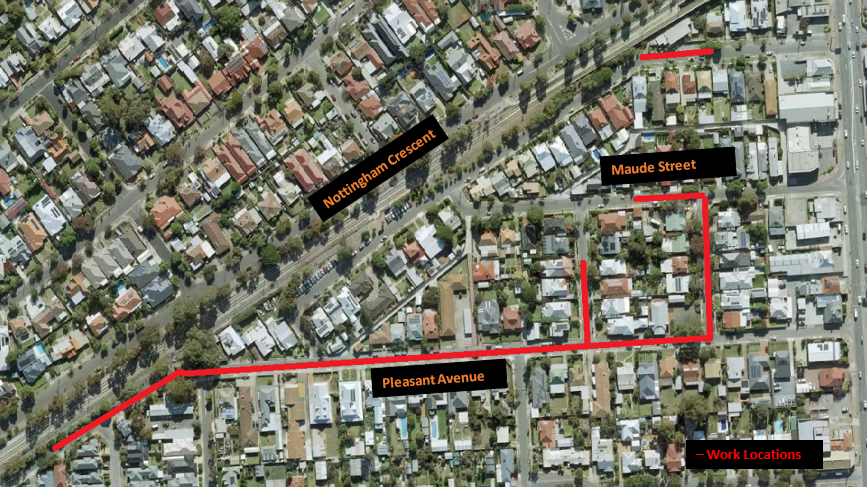 Picture: Map indicating where our relocation work will take place.
Safety
There will be some intermittent parking and driveway access restrictions throughout our work. We will provide advance notification if your property is to be impacted and work with residents to provide access when required.
Pedestrian access will be available via footpaths with some minor redirections around work areas.
Please plan, allow extra travel time, and take extra care when workers are on site. Observe speed limits, lane restrictions and traffic controllers when travelling through the area.
Power outages
Some power interruptions may be required to allow crews to relocate our equipment safely. We will send advance notification to all customers affected by these interruptions closer to the interruption date.
If you have not already registered, you can sign up for free SMS / email updates using the NMI from your power bill. This is the best way to keep updated about work affecting your property.
Where can I get further information?
SA Power Networks
Our customer service team is happy to answer any enquiries during business hours:
Phone: 13 12 61
Email: CustomerCommunication@sapowernetworks.com.au
Interpreter service: 13 14 50

Department of Infrastructure and Transport
Phone: 1300 951 145 during business hours
Email: T2D@sa.gov.au
For further information about the project, please visit the DIT website.