Large embedded generation
Application for Inverters greater than 200kVA, all rotating generators and clustered sites totalling more than 200kVA.
What is the process?
Complete the online application form. We will provide you with a copy of your application and contact you within five business days
A Connection Enquiry Response with information on the options to progress the application will be provided
Please note, if you are not the end customer, we will require a letter of authority from the customer stating you are authorised to act on their behalf
Return the Connection Enquiry Response to SA Power Networks indicating the option required and we'll send you an invoice for that chosen service. On receipt of payment that service will commence and be provided in the timeframes specified in the response
If a High-Level Feasibility response has been requested a desktop assessment will occur on receipt of fee payment
If an Engineering Report has been requested additional information will be required and a link for uploading the relevant information will be supplied
The completed Engineering Report will include the system's requirements for connection to the network
We'll provide an Engineering Report detailing the systems requirements for connection to the network.
Return the signed connection Offer and pay the applicable costs for construction works to begin
Customer to seek and receive third-party approvals (ESCOSA, OTR,AEMO etc)
Commissioning and connection documentation must be provided prior to connection
We'll attend your site to witness you commission your generation system
LocationSA MapViewer is a publicly available SA Government website which has information on the location of SA Power Networks Substations and Distribution lines.
Information supplied by SA Government website is to be used as a reference only and actual infrastructure locations may vary.
For assistance to activate the map please follow the steps below
Click here for: Location SA Viewer
STEP 1: Click on "DATASETS"
STEP 2: Select "Infrastructure and Utilities" and the SAPN checkbox's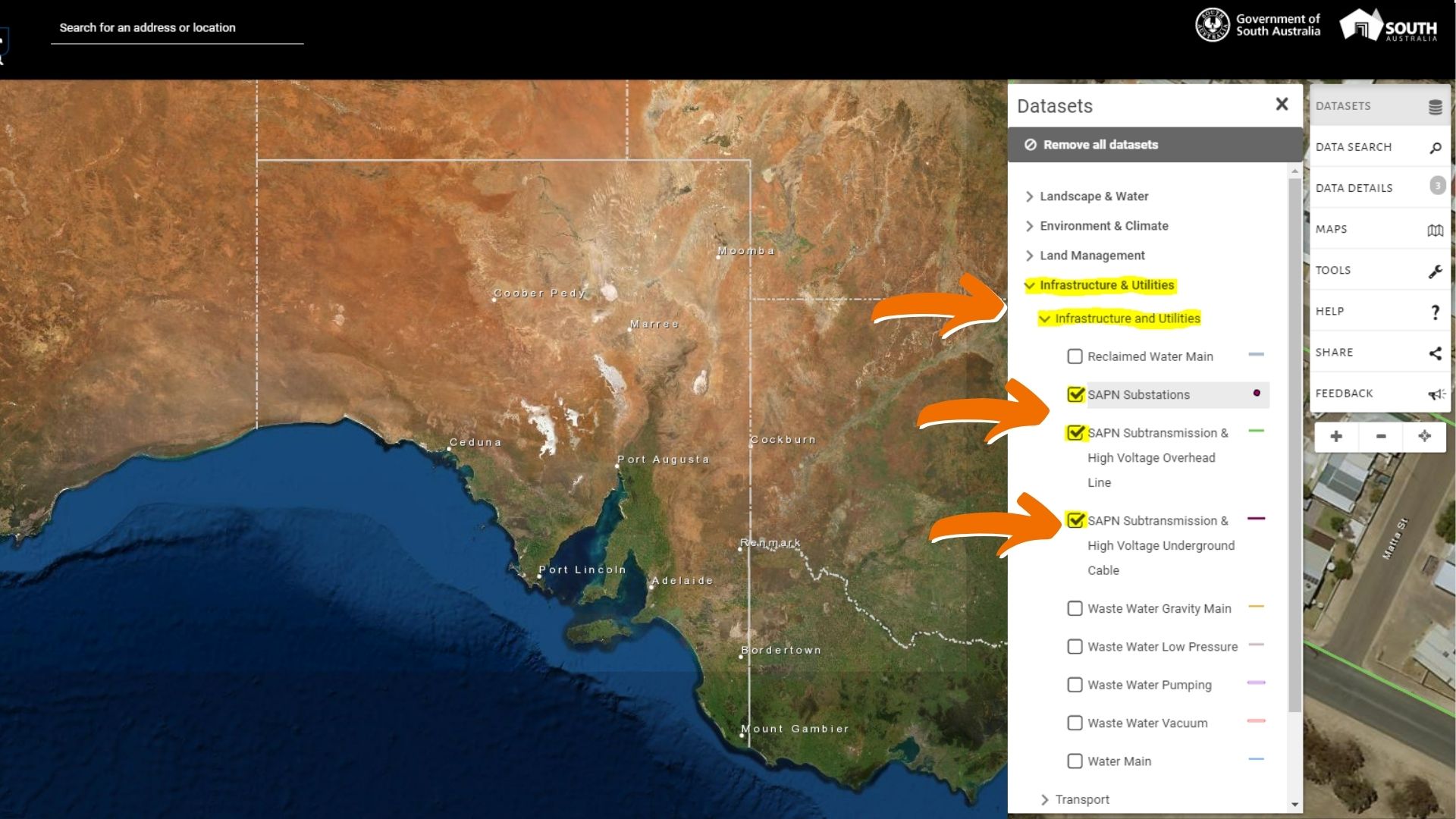 STEP3: Use buttons or mouse wheel to zoom in and out
Apply now
Apply now
Inverters greater than 200kVA and all rotating generators.
Timing and fees
Timing and fees
Indicative timelines and fees associated with large embedded generation.
---
What information will I need to provide?
Customer contact details
Site information (including address, proposed location of new system, details of any existing connection)
Connection information (including general system information, generation and export capacity, construction and completion dates);
Generating systems details (including single line diagram, site layout diagram and transformer information); and
Energy storage information (rate of charge and discharge and size of energy storage unit).
---