Large embedded generation
Application to install inverters with a total capacity greater than 500kVA and all rotating generator systems.
What is the process?
Complete the online application form in SmartApply. The progress of your application can be viewed from the SmartApply dashboard throughout the application process (for help to create an application, read the guide - How do I create an application in SmartApply)
A Connection Enquiry Response with information on the options to progress the application will be provided
Return the Connection Enquiry Response to SA Power Networks indicating your chosen option, and we'll send you an invoice for that service.
We will undertake assessment(s) based on the chosen service and the assessment process described in NICC270
We will provide an Engineering Report detailing the systems requirements for connection to the network.
A signed Connection Offer will need to be returned to us and the applicable costs paid for construction works to begin. You can start your own works for installation once the application status is "Approved".
We recommend you seek and receive third-party approvals (ESCOSA, OTR,AEMO etc) by this stage
Commissioning and connection documentation must be provided to us prior to connection. This includes updating installation information in SmartInstall prior to witnessing.
On the scheduled date we will attend site to witness you successfully commission your system. The scheduled date will be visible in SmartApply.
Successful witnessing completes the process
Note: Inverters and generators greater or equal to 5MW are required to follow the process detailed within Chapter 5 of the National Electricity Rules, including compliance with AEMO and other authority's requirements.
Find more information in the Frequently Asked Questions section below.
LocationSA MapViewer is a publicly available SA Government website which has information on the location of SA Power Networks Substations and Distribution lines.
Information supplied by SA Government website is to be used as a reference only and actual infrastructure locations may vary.
For assistance to activate the map please follow the steps below
Click here for: Location SA Viewer
STEP 1: Click on "DATASETS"
STEP 2: Select "Infrastructure and Utilities" and the SAPN checkbox's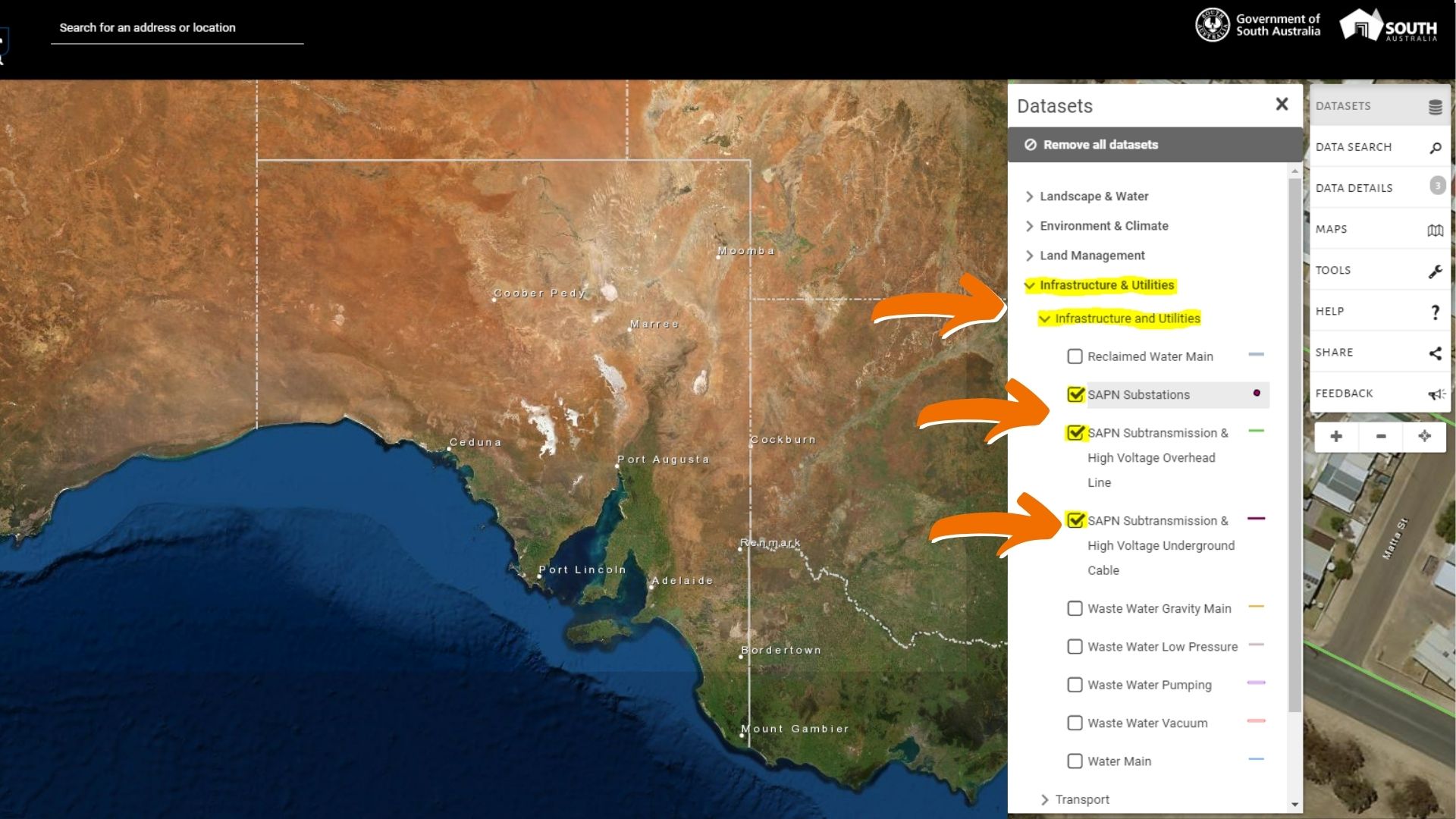 STEP3: Use buttons or mouse wheel to zoom in and out
Information you'll need
Information you'll need
Information you'll need to complete the online application process for Large Embedded Generation (LEG)
Timing and fees
Timing and fees
Indicative timelines and fees associated with large embedded generation.
---
SA Power Networks allocate the tentative technical solution for your application when we issue a <5MVA Engineering Report or ≥5MVA Detailed Response. We will formally allocate the capacity for a generating system when we have received payment for 100% of the Connection Fees . The allocation will only persist as long as the corresponding documents are valid.
Yes, it is critical that all existing generating systems, including their equipment details and operating philosophy, are included in your application. Applications for multiple generating systems on the same or adjacent titles will be subject to the cluster rule, which is outlined in our Cluster Rule for Generators Fact Sheet
The assessment portion of the application will follow timeframes detailed in NICC270. Indicative timeframes for the NER Chapter 5A process include:
High Level Feasibility Study – 20 business days from receipt of all information (including payment)
Engineering Report – 40 business days from receipt of all information (including payment)
Offer to Connect and Connection Agreement – 65 business days from receipt of all information (including payment and Engineering Report)
Timeframes for construction of any connection assets vary and are subject to the scope of works.
Yes, the process is different. You will need to submit the same application form, including additional information about the import and export capacity and operating philosophy for the proposed system. The load component of the system would be subject to SA Power Networks' tariffs and Connection Policy's pricing formula, which may include Augmentation charges* (Incremental Cost Shared Network, ICSN) and may be eligible for a Rebate (Incremental Revenue Rebate, IRR).
*Where current rates are published in SA Power Networks' Manual 18.
The indicative costs for making an application are outlined in Appendix 4 of NICC270. For example, and as a guide, for a typical generating system between 200kVA and less than 5000kVA, the process and related indicative costs are (all GST inclusive):
High Level Feasibility Study – $2,101
Engineering Report – up to $9,482
Offer to Connect and Connection Agreement – $3,729
SA Power Networks' construction costs are defined by the NER as a quoted service, please refer to Manual 18 table 4 for the published rates for SA Power Networks services. Actual grid connection and upgrade costs will vary on a per site basis and are not included in the application costs above.
Each step of the application process concludes with SA Power Networks' provision of a time-sensitive document. You should be sure to proceed to the next step within the validity period (unless agreed) of each step, as per below:
High Level Feasibility Study – No validity period
Engineering Report – within 3 months
Offer to Connect and Connection Agreement – within 45 business days
Completion of Design and Construction – within 180 days as per SA Power Networks' Construction Terms
If you do not proceed within the prescribed validity periods, SA Power Networks will void the application and you may be required to restart the assessment process.
Please contact LargeGeneration@sapowernetworks.com.au for a copy of a draft guide to using our DAPR to assist you in choosing a site. It is recommended that a High Level Feasibility study is completed to determine the suitability of any prospective site.
Appendix 5 of NICC270 includes a list of (typical) analyses that will be performed by SA Power Networks as part of your application. Common technical constraints:
Steady State Voltages;
Voltage Step Changes;
Substation Transformer Reverse Thermal Rating;
Distribution Line Conductor Thermal Rating; and
Short Circuit Ratio.

As per the Engineering Information iApply form, you will be required to submit the following:
Site generation details and operating philosophy, including generator size, import and export requirements, Power Factor Control,
Customer owned transformer and consumer's mains size and impedances
Site Single Line Diagram and Protection Single Line Diagram
Datasheets for all proposed and existing generation and protection equipment
Proposed site layout
Should you need further guidance, clarification or information, please contact LargeGeneration@sapowernetworks.com.au

In addition to the technical documents required for SA Power Networks' assessments, you will also be required to prepare the following documents to allow for witness commissioning of your system:
Commissioning plan (template available on our website)
Protection settings report
Compliance and monitoring program (template available on our website)
Electrical Certificate of Compliance
Outline for Remote disconnection/reconnection technical solution
Protection test results
You may also be required to provide input to a Joint Operating Protocol for the generating system if SA Power Networks require Remote Monitoring and Control.

Your connection is dependent upon the configuration of the local Distribution Network and the specifics of your proposed generating units. For generating systems with total AC rating up to 1.5MVA , you have the option to connect either at 3-phase low voltage, or at high voltage directly to the distribution network. For system's with capacity greater than 1.5MVA, a high voltage connection will be required in every case.
Connection to SA Power Networks' Remote Monitoring and Control network is required for all generating systems with the capability to export greater than 200kW through a single network NMI, or if a network constraint has been identified in the location of the generating system.
---