Upcoming changes to small embedded generation connections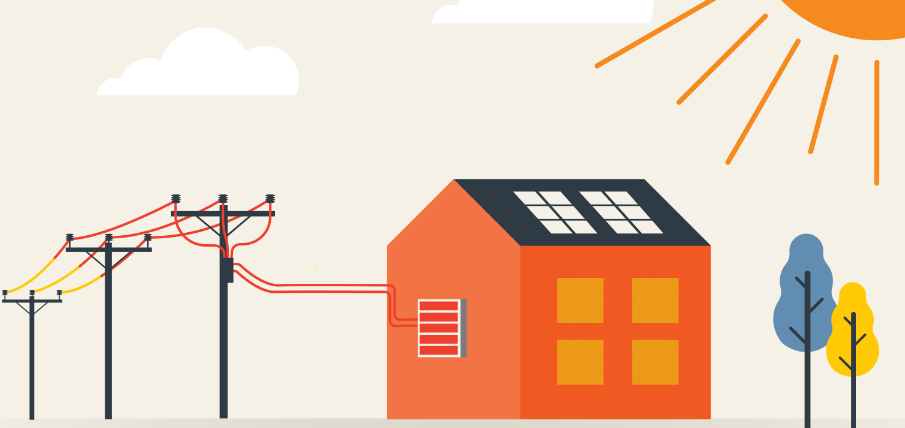 Upcoming changes in the way we apply export limits for new and upgrading solar connections in some parts of our network.
South Australia continues to lead the world in the take-up of distributed energy resources (DER) such as rooftop solar and home batteries. SA Power Networks is committed to ensuring that our distribution network can continue to support the growth of rooftop solar in the state for years to come.
The rapid uptake of solar is placing significant stress on parts of our network, and we are actively investing in a range of measures so that we can:
deliver on our goal to double the amount of solar on our network by 2025
support our State's target of 100% net-renewables by 2030.
You can find more information on how we are enabling the distributed energy transition on the Future Energy section of our website.
This Notice to Industry relates to upcoming changes in the way we apply export limits for new and upgrading solar connections in some parts of our network.
What's changing with solar?
What are flexible exports?
Flexible exports trial and what does this mean for you?
What areas are impacted?
When will these changes come into effect?
What is the benefit to the solar industry?
Where can I find more information?
Register for our webinar
---
What's changing with solar?
As you may know, some sections of our electricity distribution network are reaching their maximum capacity to host solar exports. This is causing customers' inverters to trip off or ramp down, and voltage issues for other non-solar customers nearby. In some areas, the reverse solar power flows on the network are beginning to exceed the capacity of our zone substations. Without mitigating action, this has the potential to overload or damage equipment, which may lead to blackouts.
Currently, solar customers are able to export the excess energy they create back into the network with a limit of 5kW per phase. But in overloaded areas we are going to have to manage exports in a better way. After significant consultation with customers, the industry, State Government and regulators, we are introducing an innovative new connection option for new and upgraded solar installations in these overloaded areas. Called 'Flexible Exports', this is being deployed as an alternative to imposing low or zero fixed export limits as we've seen in some other states. For new and upgrading solar customers, we are planning to introduce either a smart new Flexible Exports option or a flat 1.5kW limit.
In the coming months we will introduce Flexible Exports in parts of the network that are significantly overloaded from reverse power flows. Under Flexible Exports the export limit can vary depending on our assessment of the capacity of our network to handle the demands being placed upon it. Flexible Export limits can be up to 10kW per phase and will be available for new and upgrading solar customers connecting to these overloaded parts of the network.
We estimate this will affect less than 2% of applications to connect rooftop PV during the first 12 months – ie. up to 800 customers.
A fixed export limit option of 1.5kW per phase will be available for customers who do not wish to take up the Flexible Exports option.
Existing solar customers and new/upgrading customers connecting to parts of the network that are not overloaded, will be unaffected and will be subject to the current fixed export limit of 5kW per phase. However, over time, we plan to expand the service so that all customers can get access to flexible export limits if they wish.

---
What are Flexible Exports?
The Flexible Exports option will provide customers with a variable export limit up to 10kW per phase, subject to available network capacity at their location and provided the solar system inverter used by the customer is compatible with Flexible Exports.
Modern internet-connected smart solar inverters will regularly receive export limits via the internet from SA Power Networks and match their output to available grid capacity at each location.
At limited times, the export limit will be lowered to avoid overloading the network.
By introducing Flexible Exports, we will help to:
maximise the number of customers able to install and benefit from solar
maintain a safe, reliable and affordable electricity supply
support achievement of South Australia's renewable energy goals.
The Flexible Exports option will also enable customer's solar installations to be compliant with the SA Government's Smarter Homes Regulations, which require the ability to disconnect/reconnect the system remotely and will also require dynamic export limit capability.
---
Flexible Exports trial
Flexible Exports will initially be offered as part of a 12-month trial, aimed at accelerating the availability of this option in overloaded areas. In the future, we are planning to provide Flexible Exports as a standard connection option for all new and upgrading solar customers.
Read more about the Flexible Exports trial announcement.
---
What does this mean for you?
When making a connection request for a new or upgraded solar system through our online SEG application process, if your customer is connecting to a significantly overloaded part of the network that has Flexible Exports available, they will be offered a choice of the new Flexible Exports connection option or a 1.5kW fixed export limit.
The application form will indicate the offer automatically, according to the NMI/meter of your customer, and will take you to more information on our website.
You will also be able to use the form to check an area before speaking to your customer to determine in advance if they are in an overloaded area participating in Flexible Exports.
Only selected smart solar systems compatible with Flexible Exports will be available under this option, and these will be listed on the SEG application form. You should discuss this new option with your customer before completing the SEG application form.
The Flexible Export option will provide customers a variable export limit up to 10kW per phase depending on available network capacity. If your customer does not opt in for Flexible Exports, they will be given our new standard fixed export limit option for overloaded areas of 1.5kW per phase, and will need an approved export-limiting device or configuration for their inverter.
Note: If your customer is not in an overloaded area (the case for most new applications), there will be no change to the application process.
Medium Embedded Generators (MEGs) will continue to be assessed on a case-by-case basis as part of the standard connection application process. Over the course of the trial, we will look to extend the Flexible Exports option to MEGs in overloaded areas as an alternative to lower fixed exports.
---
What areas are impacted?
Only significantly overloaded parts of the network will be impacted in the short term by these changes, which at this stage we anticipate will be contained to limited areas within Adelaide's southern suburbs.
---
When will these changes come into effect?

In the coming months, further information will be provided including the date on which the new connection options and changes to the online application process come into effect. In the lead up, training and information will be made available on the updated SEG application process and the installation instructions for Flexible Exports compatible solar systems.
---
What is the benefit to the solar industry?

Ultimately, Flexible Exports will allow more households to benefit from solar, enabling an ongoing market for the solar industry.
By making much better use of available distribution network capacity all year round, Flexible Exports will assist solar customers to get the best possible value out of their systems in overloaded areas, and significantly reduce the number of customers whose rooftop systems trip out occasionally due to the network being overloaded. It also will avoid the need for expensive network upgrades that would push up electricity prices for everyone.
---
Where can I find out more information?
Watch this video to learn more about Flexible Exports.
Download the Flexible Exports summary infographic.
Further information and FAQs are also available on our website.
---
Engaging with the solar industry
This is only one of the many additional actions we're taking to support the continued uptake of solar on our network. Read more about our other initiatives.
We are working closely with the solar industry to help guide and shape our approach to increasing the amount of solar on our network. In September 2020 we created a new Solar Industry Reference Group with representatives from solar companies, energy advisory companies, and peak bodies like the CEC, SEC and NECA. We meet regularly, seeking their input on how we can better meet the needs of the industry and solar customers.
We have created a new Flexible Exports area on our website for the solar industry which we encourage you to visit. Over time, we will add more resources and information to help you better understand Flexible Exports and what this means for the sales and installation process.
---
Want to know more?
In the coming weeks, we are holding an industry webinar that will include the following:
DER challenges on the network
The "why" behind Flexible Exports – transitioning from Smarter Homes to Dynamic Export Limiting
Changes to the SEG application form – supporting the shift to Flexible Exports
You can register your interest in the webinar here. Details will be confirmed with you via email.
In the meantime, should you wish to speak with someone regarding these changes, please contact us on 13 12 61 or at seg@sapowernetworks.com.au.
---