SA Power Networks named VEX Robotics Partner of the Year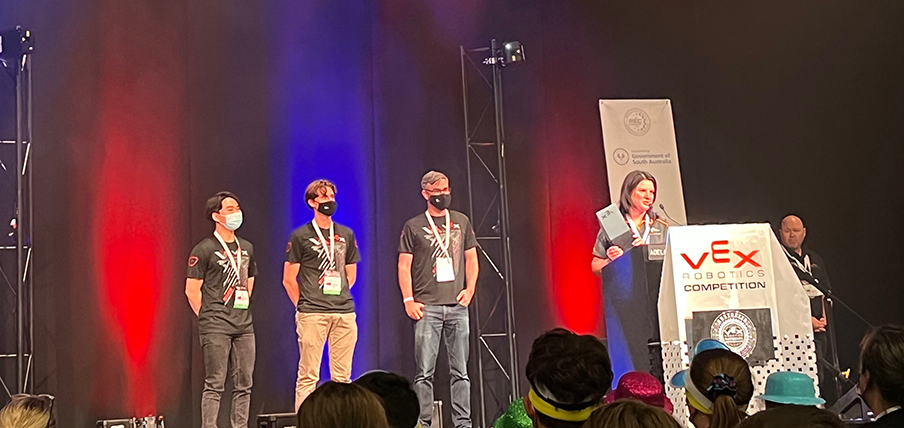 SA Power Networks was awarded Partner of the Year at the VEX Robotics 2021-22 National Championships in March, which saw schools from around Australia putting their robots to the test.
The National Championships were held at the Adelaide Convention Centre, 5–6 March, with primary, high school and university teams competing, following their wins at the state championship events last year.
As one of the sponsors, SA Power Networks had a stall promoting innovation, including a visit from Spot the robot dog and an R2D2 robot replica. The competition was judged by some of our staff and graduate program participants, along with volunteer support from others.
"The schools were all brilliant, and it was great to partner with VEX Robotics and Robotics Education and Competition Foundation for this hugely successful event," Innovation Manager Emma Cole said.
On behalf of SA Power Networks, Emma received the Partner of the Year award for contribution to STEM education and support and the growth of robotics in our state.
As well as sponsoring the National Championships, SA Power Networks also partnered with VEX Robotics in 2021 through our Innovation program to develop and run our high school SWER line robotics challenge. It was the first time a corporate organisation had engaged with VEX robotics beyond the competition itself.
"Innovation is not just about coming up with ideas, but great partnering, collaboration, and all the effort to make the ideas happen and come to life, and our partnership with VEX is a testament to that," Emma said.
"The SWER line challenge was a pioneering one for VEX Robotics, as it was the first time an organisation had approached them wanting to hold their own robotics competition."
Our SWER line challenge saw 12 schools around South Australia use a VEX Robotics kit to build a robot to inspect SWER lines, and then compete at an event in November 2021.
Two schools at the National Championships – Pembroke and Pedare Christian College – took part in our SWER Line challenge last year (Pembroke has since mentored and assisted other teams), and they did so well at the Nationals, they're now going on to the World Championships in Texas in April.