Schools work to solve power challenge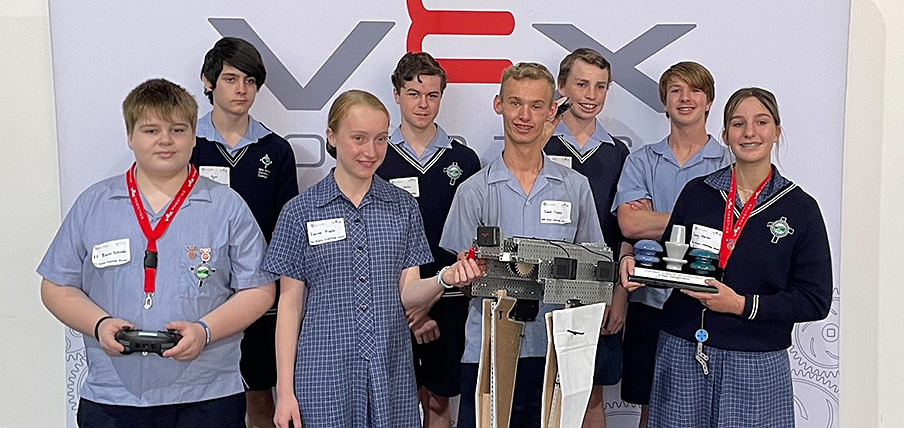 Mid North Christian College named the winner of the SA Power Networks / VEX Robotics SWER Line Robotics Challenge.
Twelve public and private schools have been working to help solve a powerful challenge – to develop a robot able to crawl along overhead power lines to check for damage and faults.
SA Power Networks and VEX Robotics combined to offer awards to schools who can develop and build a robot that can make its way along a Single Wire Earth Return (SWER)* power line to check for faults or damage.
On Friday 5 November, the schools revealed their creations at the Adelaide Convention Centre. They also got to meet Spot the Dog, our asset inspecting four-legged drone.
The winner was selected based on their ability to best complete the following three phases:
Move along the SWER Line
Navigate around/over a Conductor/Stobie pole top
Navigate on and off the Stobie pole to begin and end the inspection.
The competition is linked to the STEM program in schools, with participants being supported by experts from SA Power Networks and VEX Robotics.
We believe smart, robotic technology could be used by field crews to cut the time needed to locate damage or the source of a fault, improving service for more remote customers. What was perhaps a thing of science fiction 10-20 years ago is now a reality due to the advances being made with digitalisation, robotics and artificial intelligence.
Heath May, Managing Director of VEX Robotics, said "robotics has potential for a wide range of applications and students who undertake a STEM pathway are setting themselves up for the opportunity to get involved in exciting careers."
List of winners
Innovation Award (overall winner): Mid North Christian College
WD-40 award: John Pirie Secondary School
Fusion award: Oakbank Area School
Transformer award: Horizon Christian College
Illuminate award: Jason Plunkett, St Martins Lutheran College
---
*SWER lines account for 30% of the South Australian electricity distribution network. These 19,000 Volt single wire power lines have delivered electricity cost efficiently to customers in rural areas since they were introduced in the late-1950s. But the distances they cover – SWER lines have an average feeder length of 65 kilometres – and the often difficult or remote terrain they cross, can mean long delays in restoring power for customers when there is a fault.
The 13 schools participating in the SA Power Networks/VEX Robotics SWER Line Robotics Competition are: Renmark High School, Pembroke School, Horizon Christian College, Woodcroft College, Mid North Christian College, Para Hills High School, Gawler& District College B-12, John Pirie Secondary School, St Martins Lutheran College, Oakbank Area School, Pulteney Grammar School and Pedare Christian College.
Each link opens a larger version of the image