Reconnecting electricity after a bushfire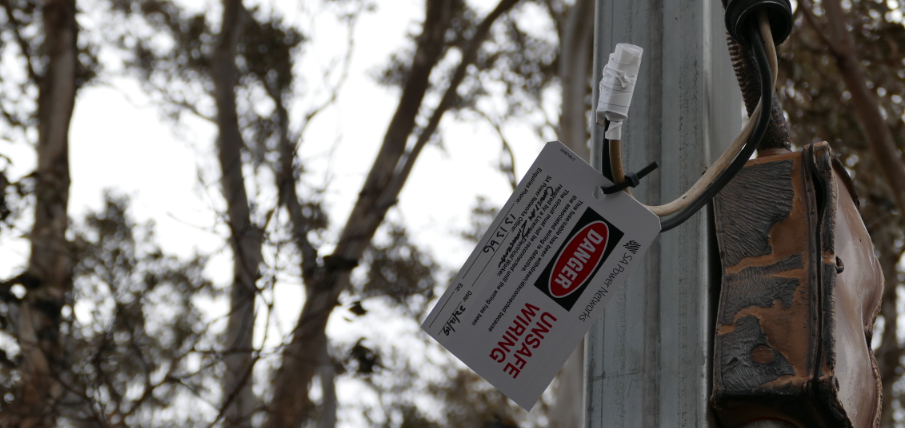 Detailed updated information about customer reconnections in the wake of a bushfire is available on the SA Power Networks website.
In addition to the information (available here), representatives are attending public meeting in Parndana tonight to talk to the community on Kangaroo Island about their specific issues.
There are many factors that are taken into account with regard to reconnecting power after a bushfire. Our inspectors must make comprehensive assessments on damage, which may not be visually obvious, and all electricity equipment must be inspected. Power inspection and restoration efforts may be hampered by ongoing fires, flare-ups, or other hazards.
Many customers will have power restored to their property once we have restored power to our main powerlines.
For others, here is some important reconnection information:
If there has been fire close to a property, we cannot reconnect power to homes/businesses until a qualified electrician has confirmed the electrical wiring as safe
If we have put a sticker on the main switch in the meter box, your electrician will need to provide an Electrical Certificate of Compliance (ECC) before we will reconnect power
We know that many property owners will have evacuated fire zones and will attempt to send SMS to registered customers to let them know if their property has been 'stickered'
If you normally get SMS from us about power outages, you are already registered. If not, register at bit.ly/SMSservice
It is important that ONLY qualified electricians remove safety stickers and security seals when safe to do so
For customers whose property has been destroyed, your electrician will need to organise a 'new connection' via your preferred retailer
We will prioritise all electricity connections for bushfire-damaged properties and there will be no fees from SA Power Networks when replacing a like-for-like service (fees apply to upgrades electricity connections, and retailers may apply a separate fee)
We urge customers to check with their own retailer to see if there are any concessions, discounts or waived fees following any natural disaster.
SA Power Networks appreciate the support we have received from the Kangaroo Island community, the Country Fire Service, the Australian Defence Force and other emergencies services in the wake of the bushfires. This support has enabled us to work safely towards power reconnection as quickly as possible.