A showcase of cultural diversity now on display on Stobie poles around Keswick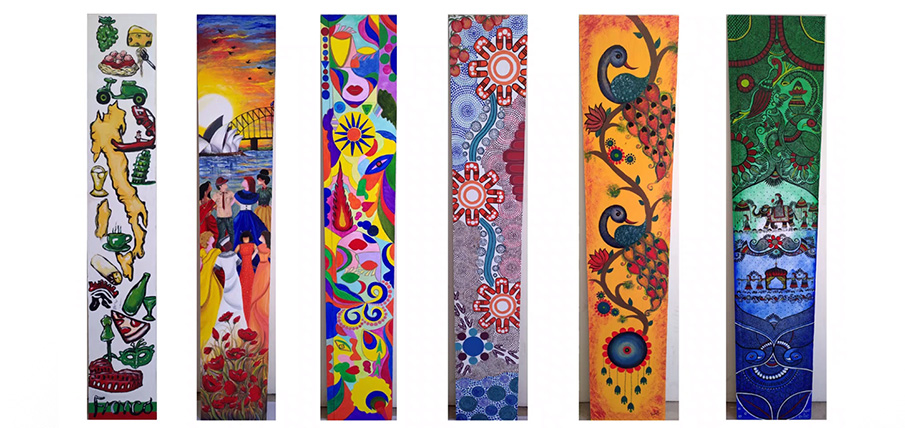 A group of staff volunteered to take part in the inaugural Paint Ya Pole initiative, drawing on their cultural heritage to create vibrant works of art that have now been installed on Stobie poles around the streets of Keswick.
With around 2000 staff from more than 40 countries, we have a diverse workforce. Paint Ya Pole is an initiative developed by our Diversity and Inclusion Committee to celebrate the multi-cultural nature of South Australians and SA Power Networks. The Committee, inspired by Stobie pole art around Adelaide, set out with one main goal in mind, create a vibrant, inclusive atmosphere anyone can enjoy.
The brief was pretty open, but a group of our staff was asked to draw on their cultural background to each create a piece of art that could be installed on a Stobie pole. The artwork needed to have some connection to their cultural background and could also draw a connection to Australian culture.
The result was a beautiful set of artworks that have now been installed on Stobie poles in the suburb of Keswick for anyone to enjoy.
See the results of the painters who volunteered their time and skills below.
Aishat's Stobie pole art
Aishat's cultural background is Kazakhstani. She created an abstract piece that draws inspiration from the Kazakh spring festival and cultural celebration of Unity Day.
Amrit and Ravneet's Stobie pole art
Amrit and Ravneet's cultural background is Indian. They drew inspiration from the ancient art of Henna in a piece that celebrates new beginnings and is a symbol of good health and prosperity.
Ananya's Stobie pole art
Ananya cultural background is Indian. She used iconic symbols to celebrate the diversity and multicultural nature of what is means to be an Australian.
Frank's Stobie pole art
Frank's cultural background is Italian. He drew inspiration from some of Italy's most famous exports to create an art, food and fashion filled celebration of a culture that brought good coffee to Australia.
Nagarjuna's Stobie pole art
Nagarjuna's cultural background is Indian. He drew inspiration from nature to create an artwork in the colourful style of Rangoli.
Can anyone paint a Stobie pole?
Anyone can get involved in Stobie pole art, but remember, there are some restrictions. Before painting any Stobie pole, you need to check in with us and your local council.
Check out Stobie pole art in the Community for the guidelines and to apply online.