Outages linked to Grey-headed Flying Foxes expected to increase in 2022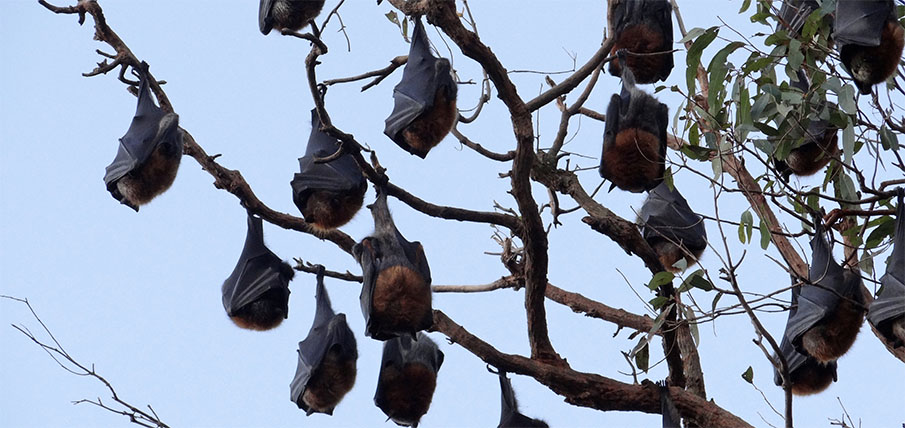 Adelaide's Grey-headed Flying Fox colony is posing new challenges for power supply this year, due to their high numbers and an unusual early birthing pattern.
The Grey-headed Flying Fox colony that lives in the Adelaide Botanic Gardens is estimated to have grown to between 28,000 and 32,000 due to successive mild summers. Numbers have stayed consistent for the past three years, but an unusual early birthing pattern has seen us respond to more bat-related power outages in January and February this year, than ever before.
Adelaide's Grey-headed Flying Foxes causing power outages
The Grey-headed Flying Fox is the largest bat in Australia and one of the largest in the world. A significant group of flying foxes, a protected species listed as vulnerable, arrived in South Australia in 2010 from the eastern states and established a permanent colony in the botanic gardens near the Adelaide Zoo. Their numbers have grown from around 10,000 in the early years to more than 28,000 now. As the colony has grown over the years, so have the number of power outages across our network.
The flying foxes cause power outages when they make contact between powerlines and pole top equipment, including insulators, transformers and switches or when caught by lightning arrestors. When this happens, the power outage can vary anywhere from 60 seconds to 2 hours, depending on whether or not we need to inspect our powerlines.
They are most active at night when out looking for food (nectar, pollen and fruit) and they travel far, covering much of metropolitan Adelaide and the nearby horticultural areas.
They do not have specific flight paths (they go where the food is) and so their impact is widespread across our network, making it difficult to undertake targeted defensive action.
Power outages in Adelaide related to flying foxes since 2014
The chart shows the total number of power outages related to bats on our network each year from 2014 to 2021. It also shows power outages related to bats for this year from 1 January up to 7 February.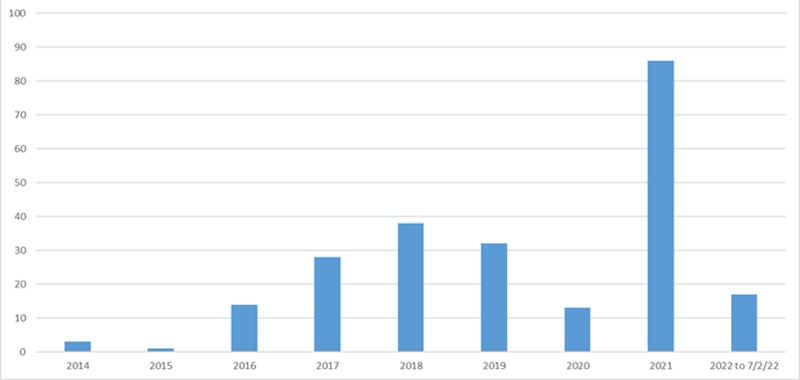 Unusual early birthing pattern this season impacting on the electricity network
Before 2020, researchers were used to recording little-to-no births of juvenile flying foxes in September. This year though, they saw an unusual birthing pattern, with the majority of juvenile births early in the season. More than 80% of births happened throughout September and before mid-October.
During an early birthing season, with a high number of surviving juveniles, foraging behaviour can begin as early as mid-January. This data is proving to be consistent with our experience in managing the distribution network, with four times more than usual flying fox related power outages already this year.
We expect more outages to occur in coming months as the large number of juveniles start to venture out and forage for food.
Minimising the impact of Grey-headed Flying Fox related power outages
During 2021, about 240,000 customers had a power supply interruption linked to 82 outages involving Grey-headed Flying Foxes. This is a significant issue for us and our customers. We are actively working to minimise these power outages for our customers, and the risk of electrocution to the flying fox colony.
To better understand the issue, we have been working closely with fauna rescue groups, the Department for Water and Environment and the University of Adelaide.
We have installed animal guards and insulation covering on some overhead equipment where repeat outages have occurred. Also, a program of "sectionalising" high -risk lines has helped reduce the number of customers impacted by these outages.
We have a large distribution network across Adelaide and the random nature of outages involving bats, unfortunately makes it difficult to eliminate or minimise their occurrence. We continue to work on new strategies to minimise the impact of flying fox related outages.
Learn more about Adelaide's Grey-headed Flying Foxes
Adelaide's Grey-headed Flying Foxes featured on Outdoors Indoors
This episode talks about Adelaide's population of Grey-headed Flying Foxes. The host speaks to representatives from Green Adelaide about the issue and SA Power Networks about the challenges the flying foxes pose as they interact with our powerlines. The program also discuss the measures SA Power Networks are taking to reduce the flying foxes from getting injured while minimising the risk of power outages.
An introduction to Adelaide's Grey-headed Flying Foxes
Dr Phil Ainsely, Director, Adelaide Zoo, introduces us to the Grey Headed Flying Fox colony in Botanic Park out the front of Adelaide Zoo.
What to do if you see a Grey-headed Flying Fox in powerlines
The welfare of the protected native Grey-headed Flying Foxes, and all other animals, is important to us.
Report power outages to SA Power Networks - 13 13 66.
Report injured animals to either of the following organisations:
Bat Rescue SA on 0475 132 093
Fauna Rescue Flying Fox and Microbat Team on 8486 1139
Do not touch injured animals if you have not been trained how to do it safely.
Related articles
Bats proving a challenge for power reliability
Animals and electricity supply
Our commitment to the environment