Big build - A new substation at St Kilda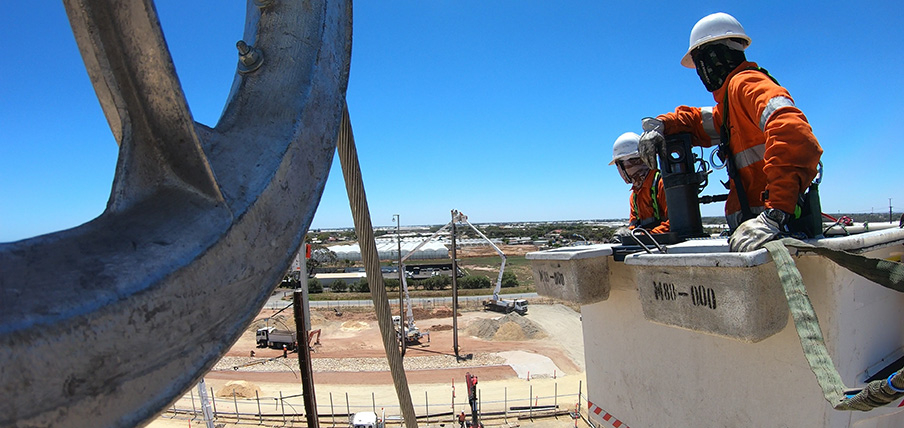 SA Power Networks has undertaken a large-scale project, involving the construction of a new substation in St Kilda, to help deliver a land-based test facility for the Navy's new Hunter Class frigates.
Once completed, the 66kV to 11kV substation will power the testing facility of the Hunter program's combat systems, which is delivering nine world-class anti-submarine warfare frigates to keep Australia safe.
Sinisa, the Network Project Manager for the project, said the St Kilda substation brings together many parts of the business to deliver for an important customer and national defence project. "As part of the project, we are building a new, dedicated substation to provide the required load for the new Defence Training Centre," Sinisa said. In addition, Sinisa explained that "to provide the substation with the supply, we had to build 1.8km of overhead 66kV line".
Field Services have liaised closely with Network to manage customer expectations and to coordinate a complex 66kV connection that integrates into the network in the northern suburbs.
Andrew is the Delivery Project Manager on the job. His coordination efforts have kept our customer satisfied and helped ensure the project runs smoothly. He says the project is "an extraordinary example of how different parts of the company come together and deliver when it's needed".
SA Power Networks' civil contractors, swung into action digging the earth grid and preparing the work for the civil team to start the primary footing works. "The civil team pressed hard to accelerated the work, overcoming weather problems, resourcing issues to meet the project timeline with the transformers and control building successfully delivering to site as planned in January," Andrew said.
Despite the efficient delivery, tidal groundwater located at just 800mm below the surface has been an ever-present risk.
"Rick, SA Power Networks' Civil Officer also worked with a civil contractor who trialled a new installation method for pole footings, driving steel piles into the ground to manage the challenging water issues experienced onsite."
Levels issues and lasers from the Department's adjacent site works also proved challenging. "They interfered with SA Power Networks' laser levels so temporary fence screening had to be installed to manage the confusion," Andrew said.
Our continued combined efforts will be a launching pad for the defence project, which in addition to keeping Australia safe, will create up to 180 jobs at businesses across the greater Adelaide region.
The expected completion date is July 2022.