Seeking artist to create a visual artwork representing our reconciliation journey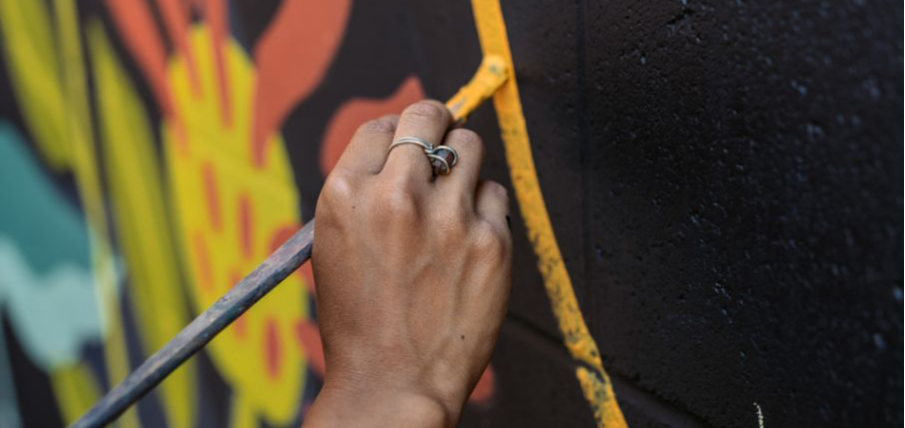 SA Power Networks is looking to engage a South Australian First Nations artist to create a visual artwork representing our reconciliation journey.
SA Power Networks is a key player in South Australia's energy industry as the State's sole electricity distributor. We are responsible for managing the South Australian electricity distribution network – the substations, transformers, poles and wires that deliver electricity safely and reliably to 1.7 million South Australians every day.
We are currently developing our first Reflect Reconciliation Action Plan (RAP), which will outline SA Power Networks commitment and actions to drive our contribution to reconciliation both internally and externally in the communities we operate in.
The successful artwork submission will be included as the feature artwork in our RAP and in other SA Power Networks communications.
What will the artist's role be?
To create a visual artwork that reflects SA Power Networks commitment to reconciliation for our Reflect RAP.
It is envisaged our Reflect RAP will come into effect in January 2024 and we will have 18 months to deliver on our commitments. The artist will also be credited and spotlighted in our RAP document, by providing an artist summary, which details the inspiration and a description of the artwork.
The artwork
The artwork must be a canvas, with a minimum size dimension of 170cm x 90cm (landscape). The artwork must be suitable to be photographed for reproduction across a range of digital and printed materials.
How will the artwork be used?
The artwork will be used throughout the RAP document itself as well as for Acknowledgement of Country at SA Power Networks internal and external meetings/events, on our corporate website and in other forms of communications eg. email banner, social media, SA Power Networks headquarters digital billboard.
The artwork will be replicated in whole, and in part, in print and digital formats for the promotion of SA Power Networks and our RAP.
The successful artist will be recognised and credited in our RAP document, and where possible in all other printed and digital materials.
What needs to be represented?
The development of our RAP is the commitment by SA Power Networks to a reconciliation process that supports the three pillars of relationships, respect and opportunities for Aboriginal and Torres Strait Islander peoples and communities. As a business with a footprint that spans across the State, we would
like the artwork to reflect our commitment and efforts through our RAP to work with Aboriginal and Torres Strait Islander communities within our business, South Australia, and our sphere of influence.
Application dates
Applications open: 7 June 2023
Applications close: 29 June 2023
Application & selection process
Stage 1
Apply online by completing the RAP artwork Expression of Interest form. Applicants will also need to include indicative images of their work to support their application. A panel, consisting of members from SA Power Networks RAP working group, will then assess all applications.
Stage 2
SA Power Networks will also notify all applicants of their outcome by mid-July 2023. Three artists will be selected to develop their concept further and paid a fee to do so. The artists will have no more than three weeks.
Stage 3
An artist will then be chosen to resolve their concept to be made into the finished artwork and paid a final fee (as per the artist payment schedule).
Key dates schedule:
Milestones and timing from the date submissions close are as follows:
| Key milestone | Date |
| --- | --- |
| Expressions of interest close | 29 June 2023 |
| Successful three artists are selected and notified to develop their concepts further | by 14 July 2023 |
| Three weeks for Stage 2 concept development | by 6 August 2023 |
| Final artist notified | by 11 August 2023 |
| Artwork complete and delivered to SA Power Powers head office | No later than 3 October 2023 |
Artist fee
We are only accepting expression of interests up to $10,000.
Artists need to include an indicative cost to create the artwork. This cost is inclusive of SA Power Networks:
ownership; and
licence to allow SA Power Networks to use the artwork as outlined in this expression of interest.
The final cost will be negotiated with the selected artist.
Three artists will be paid a fee of $500 (excluding GST) to develop their concepts further (see stage 2).
Artist payment schedule
In accordance with the above fees, SA Power Networks will pay the artist fees in the following schedule:
| Scheduled stage | Fee processed |
| --- | --- |
| Stage 2 (concept development) | $500 |
| Stage 3 (successful artist) | 25% of total artist fee |
| Completion of artwork and delivery to SA Power Networks | Remaining artist fee (ie 75%) |

Artwork ownership:
SA Power Networks will own the artwork and license the right to use it. The physical work would be displayed at SA Power Networks corporate headquarters in Keswick.
How do I complete an expression of interest (EOI)
Click the button below for more information on how to apply, and to access the expressions of interest form.
Enquiries / Contact SA Power Networks
Anthony von der Borch
Community Partnerships and Events Manager
sponsorships@sapowernetworks.com.au