'People Power' - Hindley Street mural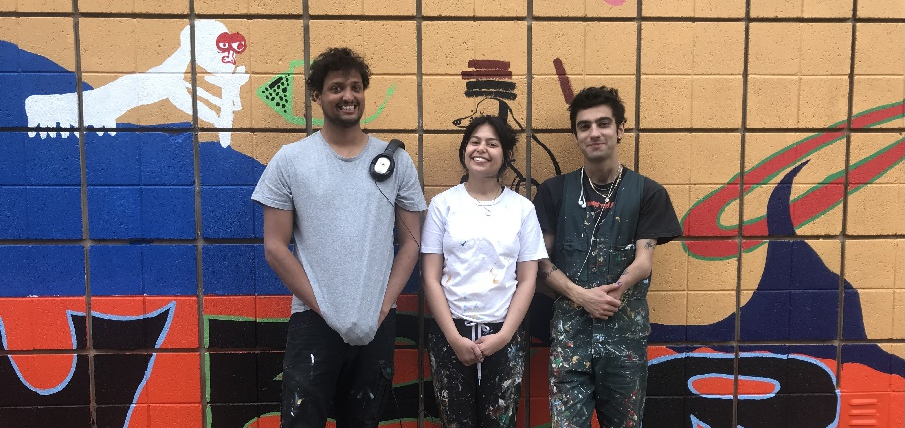 It's a case of people power meeting electric power with a large public art mural which has been painted on the George Street wall of SA Power Networks' Hindley Street Substation.
Commissioned by the Adelaide Fringe, the mural is a collaborative piece between three local artists – Aida Azin, Gabriel Cole and Kaspar Schmidt Mumm – all sharing a passion for activating public spaces around Adelaide through visual art.
"It's inspiring to create public art like this; it's a good feeling to see people being curious," explained Aida. "I really like the idea of activating the street and making it somewhere that people might stop to think for a moment, or to eat their lunch, rather than just using it as a thoroughfare," she said.
Three months of planning led to the trio conceptualising a mural that involves elements of people, cultural backgrounds, motifs, natural elements and landscapes – a combination of the unique styles and artistic flair of each of the three artists – with the aim to create a visual language onto which people can project their own imagination and interpretation.
"The inspiration for the mural is a commonality which the three of us all share; representing cultural diversity and power to the people," said Kaspar. "I also wanted to create a landscape which transports people out of the city, to somewhere else."
"The 'power' motifs and symbols in the mural are intended to draw people's attention to this infrastructure belonging to SA Power Networks – the power generator, wind turbine, the sun, the lightning; there are lots of power connotations," said Aida. "But it's also a play on words – 'people power' in the sense of education, cultural diversity, activism, strength in numbers; these are some of my personal values," she said.
"In homage to SA Power Networks, we wanted to create an abstracted, but fun take on elements that we think represent power; power in relation to the university and people studying, as well as natural elements – storm, lightning, the land – and piece it together to represent people and power in a way which is hopefully engaging to passers-by," said Gabriel.
SA Power Networks' Kylie Kerrigan said this was the second time we had partnered with the Adelaide Fringe and its ongoing Street Art Explosion. "It's great to see how positive the response has been to the first work on Coromandel Place, and I have no doubt the reaction to the new work will be similar," Kylie said.
"It's also exciting that this new mural picks up elements of our diversity and inclusion strategies as the young artists involved come from interesting backgrounds, from having a migrant family to living with a disability.
"Next year we also hope to activate the Hindley Street side of the substation through an exciting collaboration we are undertaking with the Helpmann Academy – stay tuned!"
'People Power' is intended to inspire the people who walk past it every day.
"We hope that people love it, and that it inspires others to make and create," Kaspar said.