Seeding - be aware of safety on the farm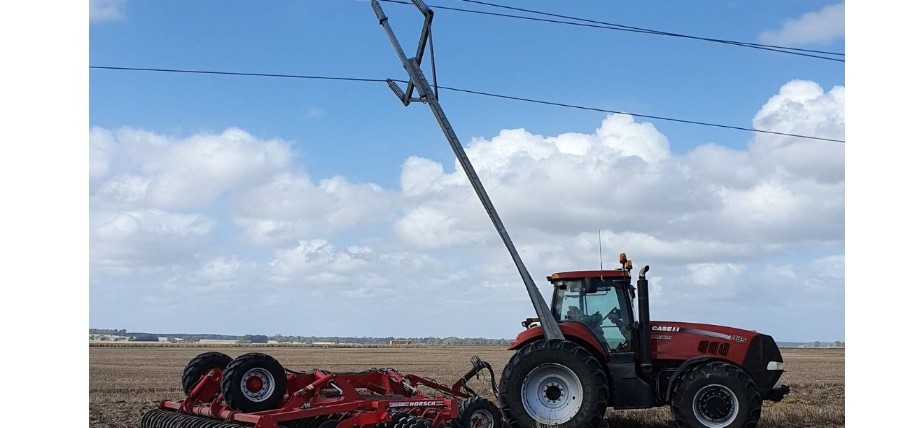 Strong rains are bringing renewed hope as many farmers get their crops seeded and underway. But it also is a dangerous time on the farm.
"People would be surprised how often we respond to electricity outages that occur during seeding activity on farms," said Paul Roberts, Corporate Affairs Manager for SA Power Networks.
"We record about 20 on-farm incidents a year where equipment contacts power lines or Stobie Poles. Seeding seems to be the most significant
time for incidents, any of which could prove fatal.
"My guess is that many farmers are understandably keen to get the crops in once they receive some good rain. In the rush they can potentially put themselves at risk. While seeding brings a new lease of life to the farm, it should not be a matter of life or death for people working on your property," Mr Roberts said.
"Before getting out on the seeder it is worth stopping for a second and asking yourself 'what could go wrong here'? Confirming the location of power lines before you start work, could save a life."
Mr Roberts said a new issue that had emerged in recent years was the use of GPS for guiding ever-larger farm machinery.
"Seeders are getting wider and that needs to be factored in when using GPS to navigate around electricity infrastructure."
What to do if you contact a powerline:
When a vehicle comes into contact with power lines there is a high risk of electric shock. If this happens, you should immediately contact SA Power Networks on 13 13 66 and (preferably) do not move from your vehicle until the power is switched off.
If a vehicle strikes a power line it is best to stay inside the vehicle until help can arrive. Others in the vicinity should keep well clear of the vehicle until SA Power Networks staff have confirmed the line is safe.
If it is necessary to evacuate the vehicle to prevent injury, several steps must be followed to maximise your safety,
including:
Jump out and clear of the vehicle, ensuring you do not touch the vehicle and the ground at the same time
Calmly walk away using small steps until you are at least 10 metres clear (about a bus length)
Call SA Power Networks immediately on 13 13 66
Do not return to the vehicle until after the area has been made safe
Keep other people well clear
In a power emergency call 13 13 66. For an ambulance or police assistance, call 000.
Media contact: 0403 582 500