Billing and CRM project scoops Project Management Achievement Awards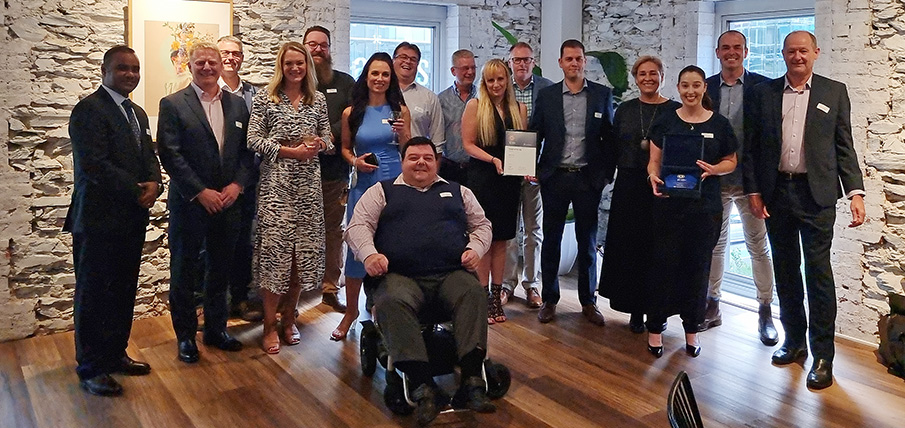 SA Power Networks has won three awards at the 2021 Project Management Achievement Awards (SA), including the overall Project of the Year Award for the Billing and CRM project.
The Project Management Achievement Awards (PMAA) recognise outstanding achievements in program and project management, and this year celebrated project management excellence across 13 categories for both organisations and individuals.
The SA Chapter awards were held on Thursday 25 November and saw SA Power Networks take out three awards for the Billing and CRM project:
Best ICT/Telecommunications Project
Senior Project Professional (Trevor Cooper)
Project of the Year (Overall award)
"Receiving these awards is fantastic recognition for the huge effort of everyone involved in the Billing and CRM project, and their dedication to ensuring successful outcomes," Program Director Trevor Cooper said.
"Key to its success was the team's commitment to a one-team culture. That approach meant everyone was working together, with a focus on solutions, even though we were made up of multiple teams within SA Power Networks and our vendor partners, and had many people located around the globe."
The project aimed to deliver a customer, billing and market solution that would assure our cashflow, position us to meet changing market requirements and customer expectation, enable us to easily transform the system in future, eliminate the risks associated with the existing end-of-life system, and reduce overall costs.
Work began in early 2019 and the new solution went live successfully on 11 May 2021.
From a people-perspective, the project involved 800 stakeholders, 400 project participants across six countries (Australia, New Zealand, India, Singapore, China, USA, UK and Germany) and eight time-zones. Trevor Cooper's one-team approach helped ensure it ran as smoothly as possible.
"I've had a fantastic team supporting me all the way and I really appreciate them and the help they provided to achieve a really great outcome for this project. Winning the Senior Project Professional Award really is a testament to their efforts," Trevor said.
This is the fourth year we've won at the annual awards, which are run by the Australian Institute of Project Management.
Previous awards include 2019 Project of the Year for CPMO and Best ICT/Telecommunications Project for the past three years – Scheduling and Mobility (2020), Valuing and Visibility (2019) and Machine Learning Algorithm to Convert and Migrate CAD Drawings (2018).
This achievement put SA Power Networks in line for the national awards, which will be presented at the AIPM National Conference in early 2022.