International Day of Women in Engineering 2022: Gemma and Mohita making change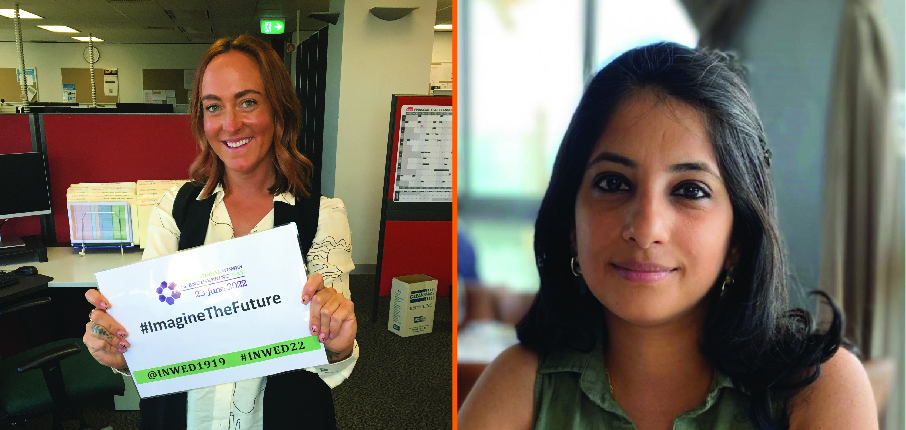 Gemma Stone and Mohita Kaushal have taken very different paths to careers in engineering. What they share, however, is a natural curiosity for how things work - and a passion for building more opportunities for women in engineering.
Mohita
Mohita was set on a career in Science, Technology, Engineering and Mathematics (STEM) from an early age, completing a Bachelor of Engineering (Computer Science) at Panjab University in India.
"I was always interested in Math and Science and applying logic to solving complex problems," Mohita explains. "When I was growing up, I saw that computers were becoming a necessity and the backbone of each industry. Hence computer science engineering was a sensible choice."
Since her degree, she has found engineering an enriching field to work in, and one that has brought great diversity and opportunity to her career. "I started with SA Power Networks around six years ago as an Application Support Analyst managing our intranet, corporate website, Power @ My Place and a few other web-based applications," she says. "I got an opportunity in 2019 to move into a leadership role after completing my Diploma in Leadership and Management. So, I started working as an IT Assets and Operational Contract Manager and am still currently in this position."
Gemma
For Gemma, who is currently working as a Business Services Officer (BSO) at SA Power Networks, the path towards a career in engineering was far less linear.
"As a young girl, I never saw myself becoming many things because it simply wasn't something that I was exposed to," she says. "However, I have always had a fascination with needing to know how and why things work and I have found that this curiosity has only increased as I have become older."
It was this curiosity that compelled Gemma to start an Associate Degree in Electrical Engineering supported by SA Power Networks. "Leaving a 15-year career in real estate was the hardest, yet one of the most empowering decisions that I have ever made," she said.
Overcoming challenges
Both women have faced differing roadblocks and challenges along their path, with Mohita saying that unfortunately experiences of unconscious bias can still be very distressing and disengaging. However, she hopes that by speaking up she can make those around her aware of how deeply embedded unconscious bias can be in the workplace, as well as in society at large.
"I have shared my lessons learnt with young girls who want to pursue opportunities in STEM. It is a challenging but rewarding experience. Even though female participation is still relatively low, I can see a change on the horizon."
Role models
For both Gemma and Mohita, the old saying of "you can't be what you can't see" rings especially true
"There is a big calling for more female role models from different careers to inspire the next generation. It's hard to understand what your full potential might be without seeing what other women are able to accomplish," says Gemma.
"I have two daughters (4 years and 10 months old), and I hope I can be a role model in their life," says Mohita.
Thankfully, when it comes to women in engineering, we have role models like Gemma and Mohita (and all those who've gone before them) actively working towards that change.
"I hope that by simply sharing my opinions, my stories, my experiences and giving my honest feedback that I will help other women," says Gemma.
23 June is International Day of Women in Engineering. Started by the Women's Engineering Society of UK, under the patronage of UNESCO, this day celebrates the outstanding work of female engineers and technicians in this often male-dominated field.