Reconciliation Action Plan artwork unveiled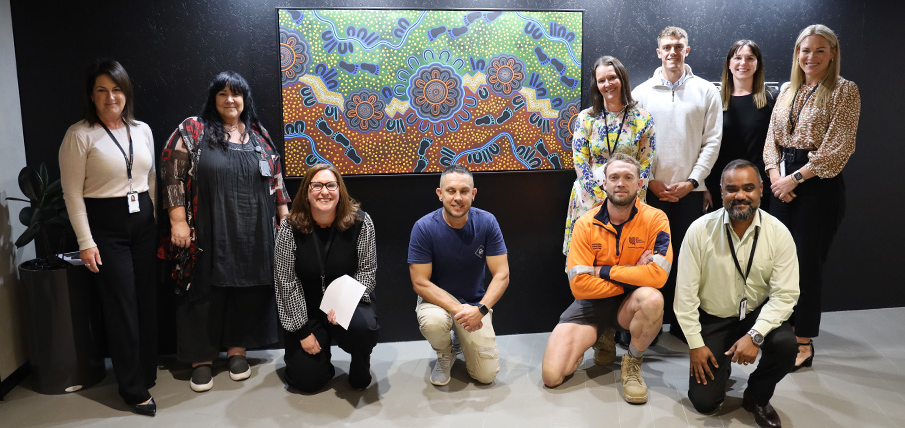 A new artwork by Presten Warren, entitled 'Empowering South Australia', will form the visual centrepiece for the very first SA Power Networks Reconciliation Action Plan (RAP).
Yesterday, members of the RAP Working Group gathered to unveil the artwork at our Keswick headquarters, which depicts the role SA Power Networks have in the community and the reconciliation journey on which we are embarking.
Presten shared his excitement to hand over the artwork and see it take pride of place at Keswick. Presten will be invited to attend the official launch of our RAP once it's been reviewed and endorsed by Reconciliation Australia.
"It has felt really surreal working on my first RAP design in partnership with such a large employer, and the organisation that powers our entire state," he said.
"I felt so grateful to be able to work with such amazing people and to have built such a good relationship with the team."
Presten's hope is "that this piece and what it stands for, combined with [the organisation's] first ever Reconciliation Action Plan, will be embraced by the people of SA Power Networks and can be integrated seamlessly into the workplace culture to create better outcomes and a better future for everyone."
The Empowering South Australia artwork will feature on the cover of our finalised Reflect Reconciliation Action Plan as well as throughout the document. We also plan to use the artwork during events such as our Acknowledgement of Country, digital meeting room backgrounds and other design collateral over the coming months.
More about the artist
You can find out more about Presten in this article, published when we announced Presten's appointment as our RAP artist.
More about the artwork
See the full artwork and learn more about the meaning behind our RAP artwork by clicking on the images below. The key explains the important components of the artwork, and how the artist sees them connecting to our business and our RAP journey.