Drones at work on Kangaroo Island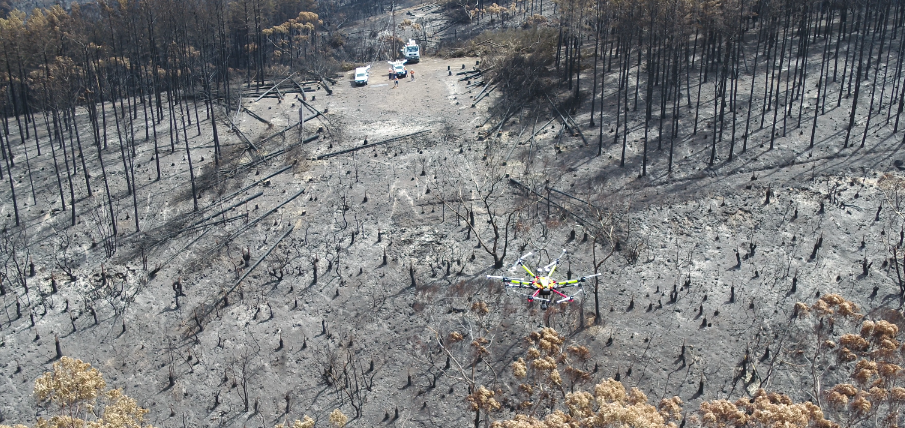 A drone has assisted in patrolling and re-stringing downed powerlines damaged on Kangaroo Island in recent bushfire activity.
On Saturday (18 January 2020) it was used to help re-string three spans of 19,000 Volt powerline that crossed some gullies at Kohinoor Hill (west of Cygnet River).
In total 1.4km of line was restrung in an area not suitable for helicopters and where trees were still falling in light winds, making the task too dangerous for ground crews.
The drone carried in a winch line and crews then pulled a 19,000 Volt SWER powerline across the three spans.
On Sunday the drone was used to patrol downed line in Flinders Chase near Cape de Couedic where it is still unsafe for crews to enter due to trees falling.
The drone provided an inspection map and photos showing the condition of the line.
Use of the drone was co-ordinated with the Country Fire Service who provided permits and permissions to operate it in the bushfire area.
SA Power Networks' has been building its drone capability for wider use in outage response work, particularly in regional areas of South Australia.
Drones are not suitable in all situations, but in work like this they offer a safer, cheaper and less disturbing option for re-stringing long sections of line, particularly in more difficult terrain.
They are a safer option in these circumstances than helicopters, which can disturb livestock and wildlife, create turbulence and raise significant dust when close to the ground making for more hazardous conditions for ground crews.